Clark's Fine Art Gallery & Auctioneers Inc.
Contact Consignments Past Sales Catalog Index Bids
Fine Art Collection including work from EG Robinson
Live Auction Saturday December 7th @ 10am
Lots 1-164
&
Michael Hittleman Gallery Liquidation Part II
Auction Sunday December 8th @ 11am
Spec
i
al
online only a
uction
on Liveauctioneers
(Please note: the Gallery will be closed on Sunday)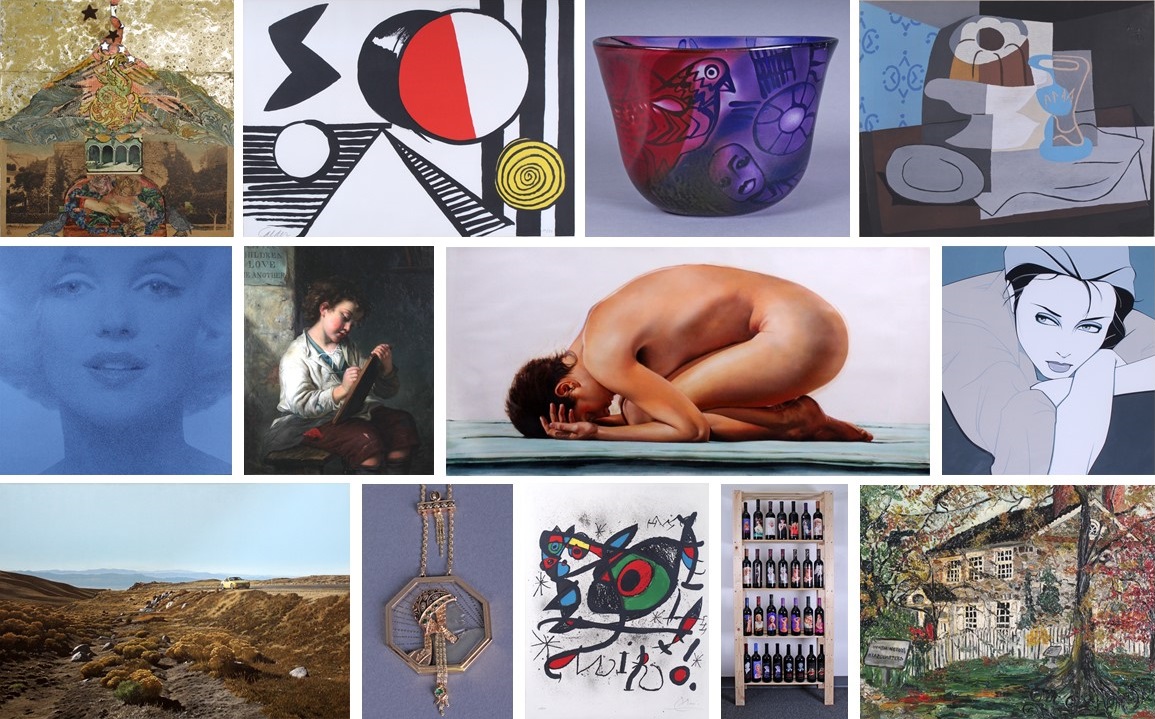 Betye Saar tiny collages, Alexander Calder lithographs, Bertil Vallien and art glass, after Pablo Picasso collotype with stencil,
Bert Stern screenprint, John Thomas Peele painting, John Nava 38 x 83", Patrick Nagel screenprint,
John Meyer large paintings, Erte jewelry & Sculpture, Joan Miro lithograph, Marilyn Merlot wine Collection,
Gladys & Edward G. Robinson paintings
Preview:
Monday Dec. 2nd to Friday Dec. 6th 10 am - 4:30 pm
Saturday December 7th Preview at 10 am, Live Auction at Noon.
Sunday December 8th Online only auction begins at 11am
Register for bidding on Liveauctioneers
Please contact us at gallery@pacbell.net for email invitations
Like us on Facebook
Clark's Fine Art & Auctioneers Inc.
7011 Hayvenhurst Avenue Space A, Van Nuys, CA 91406 USA
(818) 783-3052 Fax (818) 783-3162 email gallery@pacbell.net or auctionclark@gmail.com
Buyer's Premium 25%
Consign Now For Our Next Auction.
Clark Cierlak principal auctioneer, 42 years in the Fine Art Business.
John three sixteen