Clark's Fine Art Gallery & Auctioneers Inc.
Contact Consignments Past Sales Catalog Index Bids
Gallery Inventory Liquidation
Auction Saturday August 22nd, 2020 @ noon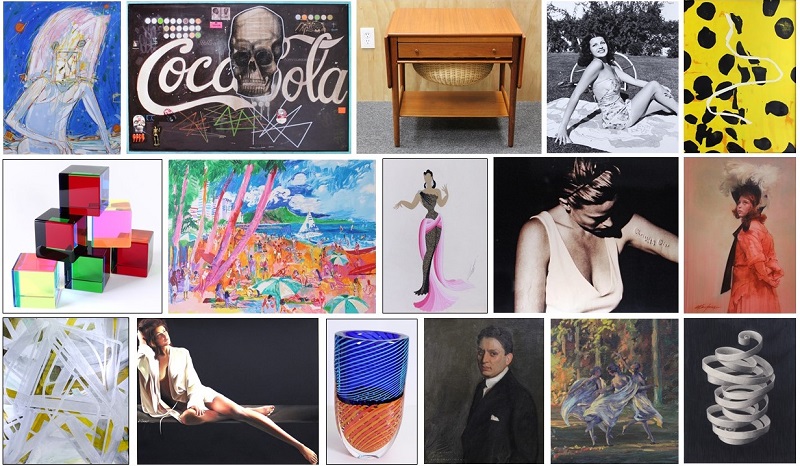 Lee Mullican painting, Date Farmers paintings, Hans Wegner mid century table, Frank Worth photographs, David Amico 96 x 72" painting,
Vasa sculptures, LeRoy Neiman prints, Erte originals, Daniele Buetti photographs, Stuart Kaufman painting,
John Millei 60 x 52" painting, Bill Mack 42 x 48" painting & drawings, Murano Glass & decorative arts,
Harrington Mann portrait of Morris Gest, Artists Unidentified 19th & 20th Century, Jeff Colson selected works.
For Live internet bidding, click link below

Preview August 17th - August 21st 10am - 4pm
Saturday August 22nd, Doors open at 11am, Auction at Noon.
Please contact us at gallery@pacbell.net for email invitations
Like us on Facebook
Clark's Fine Art & Auctioneers Inc.
7011 Hayvenhurst Avenue Space A, Van Nuys, CA 91406 USA
(818) 783-3052 Fax (818) 783-3162 email gallery@pacbell.net or auctionclark@gmail.com
Buyer's Premium 25%
Consign Now For Our Next Auction.
Clark Cierlak principal auctioneer, 42 years in the Fine Art Business.
John three sixteen